Today I am guest posting for Melissa at Beautiful Mommy Feet! Her blog has been a blessing to me and has truly resonated in my heart! This Pastor's wife has quickly become one of my "bloggy" friends and I've enjoyed getting to know her better! She asked me to write about Cultural Christianity and to be honest, this task stretched me in ways I did not expect when I told her "yes!" I learned a lot and God really led me in writing this - here is a little snippet! For the rest you will have to
head on over to Beautiful Mommy Feet
!
Churches in the mid-west are usually small and attendance is often irregular. If you ask a person on the street what they think of church, God or even Christianity - the answers often suggest they don't know or care or they feel strongly about not going to church because of the hypocrisy that "lives" there. We just finished Vacation Bible School in our new church and I was amazed and even shocked at how little the kids knew about God or the Bible. One night I taught the Ten Commandments. NONE of the 12 kids had ever heard of them.
So why are these kids completely ignorant of God's Word? Why do their parents have no interest in coming or even bringing their children to church? If you ask people why they don't come to church you will come across this blanket statement...
For the rest of today's post head on over! Thanks for stopping!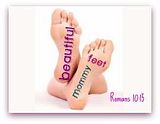 In HIS Grip,