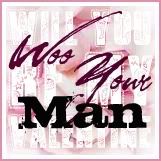 Does your hubbie work in an office or does he have a desk where he works? If so this idea will work perfectly for you! Everyone loves to receive something from a loved one at their work simply because it let's everyone know who works there that there is someone at home who loves them. For a woman, this is easy! Just send flowers! And maybe your man would like flowers or balloons sent to him at work but for my man, he would think it was a little silly. So I had to get creative!
First, I took pictures of our children and put them in a small frame for his desk. Then I got all prettied up and took pictures of myself for another picture for his desk.
The pic I chose of myself :0)
Sidenote here: If you take a whole bunch of pictures of your self and your hubbie sees the pictures on your computer before he receives his gift, he may be slightly confused as to why you are taking pictures of yourself like that and get concerned. My hubbie did and he had to wait a week to find out that the pictures were not for the internet but for him! It was entirely laughable at the time but I think it did cause my hubbie concern as to who these pictures were for. Men can think that way I suppose! :0)
I also got a candy jar with a lid and filled it up with his favorite kind of candy to put on his desk. A homemade pencil holder made by your kids would be a nice touch as well. Put all of these things in a basket then continue to fill it up with snack packs of trail mix, jerky, chex mix, soda, or any other things that he may enjoy on his lunch breaks that he can store in a drawer of his desk. If you would like to add a little more eye-catching appeal, tie some helium balloons to the basket so they make an appealing entrance.
You can deliver the basket yourself during his lunch break or ask a co-worker of his to help you deliver it. You can also have a delivery service but that would cost additional money. I chose to surprise my man at work and deliver it myself then kidnap him for a long lunch break that I had gotten approved with his boss the day before.




I am linked up with: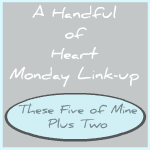 Subscribe by Email
-
Subscribe in a Reader
-
Twitter
-
Pinterest