I have made this for my hubbie two times, once before we were married and a few years after we were married. We both enjoy playing different card games and every once in a while when we are playing cards together, we play with these and it's fun to read them and see how we have grown in our love for each other!
Take a normal deck of playing cards - preferably one inside a box so you can use the box and decorate it and keep it away from the other playing cards. This idea is all over the web but I like to do mine in such a way that you can still play with the cards. One time, the youth group was over to our house to play games and they grabbed THAT deck of cards to play with!!! Not such a great idea! So make sure they are kept separate from your other cards.
The first deck I made was "52 things that I love about my hubbie." I had different things like how he puts his hand on the small of my back and guides me, how he tells people that he has a "wonderful woman." Things like that. It's truly not difficult to think of 52 things because for a woman, it's the little things that make a difference and this is a good way to thank your man for those little things!
The second deck I made was "52 Things I want You to Know." In it I took a different perspective and said thank you for things that he does for me, things I see in him that I respect and am thankful for.
Both are really good ways to show your man that you care and you see those good things in him and are thankful for him.
Permanent markers are really the best thing to use. It really depends on the type of card you buy. The cheap cardstock cards you may be able to use pen but the good plastic feeling cards need the permanent markers.

For more in the series click on this button!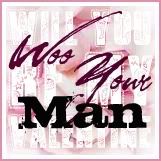 I am linked up with:
Subscribe by Email - Subscribe in a Reader - Twitter - Pinterest