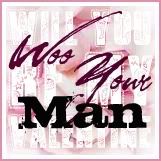 I
f you are not MARRIED, please refrain from reading this post for the sake of keeping your heart and mind pure! I'm not explicit, I choose my words very carefully, but if you are not married, you can look at my OTHER Valentine Ideas that will help you out! Thank you!
Our very first Valentine's Day was one that was very special for me and my husband. For one thing, we hadn't been together on a Valentine's Day yet. My hubbie had to work and this was before kids so I was home alone and was able to set this up before he got home.
I took fabric rose petals left over from our wedding and made a path. You could also use Hershey Kisses. I then hid in the most obvious place - the bedroom. It started out with a note that said
"Happy Valentine's Day Sweetheart! Please follow the path and ONLY the path! No cheating!"
At different intervals along the path there were little "things" that would be fun to use in the marriage bed. (I'll let you fill in the details of what you would like to use here!). You could also mix in little gifts, like a card for him, a box of candy, whatever.
My path led straight to the bathroom - he worked in a dirty job so he always had to shower before ANYTHING else! You could have a bubble bath waiting for him, or his favorite body wash.
While he was in the shower, I picked up the original path and made a new one leading away from the bathroom and bringing him to other places and finally to the bedroom where I was waiting in a room filled with candles and dressed in a "very nice thing that he would like."
He LOVED that Valentine's Day and I did too! Very special memories were made and so far, I don't think I've been able to come up with a better plan to woo my husband!
In HIS Grip,
I am linked up with: