WELCOME!!! I am so glad you are here! God has been blessing me with lots of bloggy friends and there is always room for one more!
About Me - Stringer Mama
This is me - Stringer Mama. My blog title was an attempt at being creative and it honestly in my opinion failed miserably! My last name is Stringer and I have a "stringer" of children and responsibilities. . . as I said creative attempt somewhat failed! But the name has stuck and I like it :0)
I became a
child of God
at a very young age and I was raised in a Christian family. My dad became a pastor when I was sixteen and I quickly fell in love with following my Savior. I graduated with a degree in Christian Education with a double major in Women's Ministries and Counseling from Faith Baptist Bible College. During my Senior year, a wonderful man asked me to go with him and a "bunch of friends" to the mall. However, we were the only "bunch of friends" that ended up going and the rest became history and I married the man of my dreams in November of 2005.
Shortly after being married I became the Client Services Manager at a Pregnancy Center where I headed up the counseling ministries. I absolutely LOVED my job but when God placed a special little girl in my arms my entire life changed. Within a couple of months I transitioned into being a stay-at-home mom. Now I have three children! Aimee is four, Cody is three, and Emily is six months.
Aimee
Cody
Emily
After serving alongside my hubbie in various ministries I am now a Pastor's wife, SAHM and homeschooling mom and a blogger with a passion for women!
About the Blog - Stringer Mama
And this is where you will see me when blogging!
I have been blogging for a couple of years but about 3 months ago God really laid it on my heart to really focus my blog on Him and whatever He has for me. I have a series every Monday that is primarily dedicated to "Life In Our Fishbowl" and I talk about what I am learning or going through in my life as a Pastor's wife. These are not meant for only Pastor's wives though! Pastor's wives will most likely enjoy these posts significantly but other women will get insight to areas in which they can grow or even understand the lives of their Pastor's family and perhaps encourage them along in their ministry! Along with these posts, I provide a link-up Party for Ministry wives so we can get to know each other and encourage each other.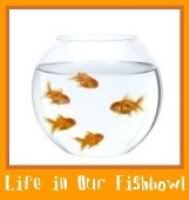 Blogging about ministry is not the only thing I blog about! I have a passion for organization - okay okay - OBSESSION! I love to save money and on a Pastor's salary this has come in handy more than once so I often blog about ways I have turned trash into treasure or re-purposed something into something I love!
I often blog about crafts and other projects that I have done but I am NOT a crafty person! Usually I take other people's ideas and tweak them into a way that will make them my own. I am just not creative enough to come up with brand new ideas so I frequent Pinterest and Google to help me in my creativity!
I also write about things that God just simply lays on my heart. I have been amazed at how God leads me to write and to watch the response of my readers just fly through the roof when I let HIM guide me. May I just say, that it is through HIM and HIM alone that my blog has any success! I sometimes have to gather my thoughts and refocus away from the numbers and the stats to focus on God's plan but that's what I need to do constantly because my sin nature is still alive and well and left to myself, I am nothing. Some of the posts that I have seen an overwhelming response that is SUCH A GOD-THING:
Fights In Your Marriage
Plastic People
Ministry Burnout
Help I'm LAZY!
And now you know a little more about me and my blog! I love comments and emails so if you would like to follow Stringer Mama there are several ways!
FOLLOW BY EMAIL ~ FACEBOOK ~ SUBSCRIBE WITH A READER ~ TWITTER
I'm joining Women Living Well with her amazing Blog Bash!!