I am not a fan of October personally - except for my son's birthday I would skip the month altogether. I don't like the promotion of evil like witches and ghosts and goblins. Whether you think they are fun or not, I'm sorry but in all of the fairy stories, they are still the bad guys!
I'm not a fan of the gaudy decorating and crafting that have seems to take over blogs, websites, and clothing which once was beautiful. Then there are the stores. Fortunately they also decorate for Christmas starting around this time so we avoid the "Orange" section and look at the pretty Christmas trees.
But this month is also a time where I remember that it is still a battle out there. A spiritual battle so we give out candy on trick or treat night!
Huh? You thought we were one of "those"people right?
Well, no. Halloween is part of our culture and regardless of how much I like it or don't like it we still take part in it just in different ways.
For our family, Halloween is an opportunity! We turn on our light and greet the kids and their parents as they come to the door asking "Trick or Treat!" This is just what we do - I know there are many families who do it differently and I'm not here to make a stand for what you should or shouldn't do, this is what God has laid on our hearts to do and we ENJOY it!
As I already mentioned, we see this as an opportunity! It's a chance to reach out to our community and share our love and the love of Christ. We buy candy - the GOOD stuff - the stuff that the kids don't roll their eyes at when they see what we have in our candy bucket! Then we attach a tract to the candy. The mini candy bars are perfect for this! In the over 500 tracts that we as a family have given out, no one has refused. These tracts are not just plain ol' tracts either! (Trust me, there are some BORING ones out there!) We get fun Halloween tracts that will catch kids' eye (which often will catch parent's eyes too!). We also put our name and address on the tracts - you may want to just put your church's name on them - but for us, everyone in our community knows that we are the new Pastor's family and where we live so the gig is up!
My kids LOVE to give out the candy to everyone who comes to the door - they think it's a BLAST! And Halloween so far has not been something that they feel as though they are missing out on either. They are right there in the thick of it! It's FUN! So regardless of your stand for or against Halloween consider doing something that will truly bring Jesus praise on a night where so many are giving praise to . . . you fill in the blank! :0)

UPDATE: Click on the images of tracts above to purchase some for yourself and your community! But hurry! Halloween will be here soon!
Thanks for linking up last week! I'm LOVING getting to know other ministry wife bloggers out there and seeing what you are up to! Link-up today for a chance to be featured on Thursday on Stringer Mama.
If you are a Ministry wife: Pastor's wife, youth Pastor's wife, evangelist's wife, or a Missionary wife, LINK-UP a recent post - ANY TOPIC - from your own blog so we can blog hop and meet one another! Oh, and be a sweetheart and include this button so other Ministry wives can get in on the fun too and so you will qualify to be featured!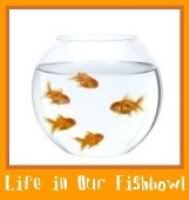 In HIS Grip,