If you spend any time getting to know me, you will know I enjoy games! All types of games! I enjoy computer games, board games, word games, logic games and games to just gather people together! Here are some of my faves!
1.
Nancy Drew Computer Games
- I have played them all and when a new one comes out, I'm very aware of it until I play it! Since these are mystery games and you can really only get enjoyment out of playing then one time, I play them and then sell them again on Amazon for just a few dollars less than I paid for it! Can't beat it!
2.
F
amily Game Night for Wii
- We LOVE our Wii! Sam and I both enjoy video games and I especially like the Wii because it CAN be very family involving! You play TOGETHER and not at each other! This one especially is really good! We have #3 too but #1 is my fave!
3.
Age of Empires III
- I have played this game for years and I still can go through addictive spurts with it! It's especially fun to get my brothers or my hubbie on a network and play against each other!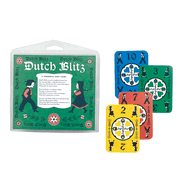 4.
Dutch Blitz
- I grew up on this game and it's a definite family game to keep you on your toes! It's fast moving and you could even break out a sweat depending on how good you get! LOVE IT!
5.
Clue
- I totally LOVE this game because I dominate - EVERY time! It's great! I love to solve the puzzle and have everyone baffled at how in the world I figure it out so soon!
6.
Mario Party 8
- When we have company over and need to break the ice or are just not sure what to do together - we pull this out and by the end of the evening our company stays longer and we have a blast!
7.
Rigamarole
- This is the ultimate in group games! I bought it for my husband for Christmas a couple of years ago and we LOVE it! It takes several people to play but New Years game parties and youth group activities are perfect with this game!
8.
Scrabble
- I will forever think (of my mom when it comes to this game!) She dominates (most of the time) and all of us kids make it a goal to simply beat mom! One of my faves probably because of all of the sweet memories tied up in this one!
9.
Spite and Malice
- I laugh at how we got going on this game. My hubbie and I saw an interview of Alan Alda and he was answering a question about why his marriage lasted for 50 years and was still going strong. He replied "Spite and Malice, we play it every night!" We definitely had to try it out! Yup can totally see why! You're going to have to play it if you want to know why! :0)
10.
Baby Savers
- Can't help but put this one in there! My little brother has talked basically since he was 12 of programming and designing computer games and he and some friends have put together Paul's first game!
Go here to try it out
and make sure you give him a rating too!
So now linky up your list of Faves and let us get to know you too! It doesn't have to be games although feel free to use the idea! Do a list of your own Faves and share it!