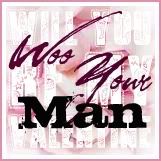 A
s you prepare to Woo Your Man this Valentine's Day, here is the first post in this series to get you started! Please feel free to comment your own romantic ideas to woo your man!
Money has always been tight for us so when we want to plan something nice for the two of us, we have to be creative! One time we were especially broke and couldn't afford to do ANYTHING! But we had food and our home and $1 and some friends to help watch the kids overnight. My husband took off to bring the kids to our babysitter and he was gone for about 45 minutes. In the time he was gone, I spread out a nice tablecloth, candles, our best dishes and special glasses (we don't drink but we love using wine glasses for Cold Duck and Sparkling White Grape Juice).
When he got back from dropping off the kids, he was really surprised that there was such a nice dinner complete with simple courses and a bread basket. I decorated the table with my wedding bouquet. After dinner, I left the cleanup for the next day and we wanted to get out so we walked around the mall for a little while and stopped and got a Redbox movie that we hadn't seen. We watched it in our room and used face mask - a new thing for my hubbie but it was fun! This was also one of my hubbie's favorite dates! I've done it a couple of times and it always goes really well!
We closed the night with a picture to remember the night!
I am linked up with: