It was my birthday, my first birthday celebrated with my boyfriend (now husband). I was truly excited about the possibility of
my man
giving me a gift for my birthday. I had never had that experience before and I couldn't wait to see what amazing, romantic thing he had planned just for me! So when he called me and asked if I wanted to go to the coffee shop, I was busting with excitement. The date to the coffee shop was fun and as we talked, I kept expecting something to happen. Things along the lines of a
bunch of roses, big balloons, a beautiful wrapped present,
something! But it didn't happen. Nothing. We left the coffee shop and my man said he had to run into Wal-Mart. We got there and he told me to stay in the car. The excitement returned full force and I just knew he was picking up something for me! He had it all planned out and in a few minutes he would come back with a big beautiful something!
He still hadn't returned to the car with that beautiful something. And my ideas of romance were fading into oblivion. This was not romantic. This was not in my ideas of being shown love. This was ridiculous. Finally, I saw him coming to the car with a small bag in his hand. He jumped into the car and turned and gave me my birthday present wrapped in a Wal-Mart shopping bag. A glimmer of hope returned and I thought, okay, he's not good at the presentation but maybe the gift will truly make up for it! I opened it up with a loving smile toward my man (do you remember those love-blind days ladies?) and saw a CD of hymns. Ahem. Now I like hymns just fine! They are amazing songs with a fantastic message and I LOVE to sing them in church. But to this day, it is the ONLY CD of hymns I (or my husband for that matter!) own. And it has probably been listened to twice. First time was when I first got it and the second time was after my husband and I got married and my husband decided to listen to it!
Needless to say, that my husband, although he has improved with his gift-giving, he is not very good with the romance in our relationship. And guess what ladies? MOST men are not! I could let this truly bother me every Valentine's Day, Birthday and Christmas and maybe even feel justified in being bothered that my husband doesn't have a romantic bone in his body. Or I can do what I'm going to suggest to you!
You don't have to wait for him to woo you, start the romance on your own! After all, God promises in this verse:
In all things I have shown you that by working hard in this way we must help the weak and remember the words of the Lord Jesus, how he himself said, 'It is more blessed to give than to receive.'" Acts 20:35 (ESV)
It is more FUN to give than to receive! And trust me it's TRUE! Especially when it comes to the area of romance! That excitement and preparation and keeping secrets from my husband (because they are for him!) is the BEST time ever!
The final product - a man loved and respected by you.
How much better can it get? Maybe your husband is one of THOSE men who is fantastic at wooing you! If so, wonderful! What a blessing you have! But how are you at wooing him? Is it a struggle for you? In the next few days, I am going to be giving you ideas to help you Woo Your Man! Just in time for Valentine's Day. Most of the ideas are ideas that I have used in the past for my husband that were truly successful. ;-)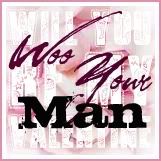 Let me encourage you to stop wondering what your husband is or isn't going to do for you this Valentine's Day, but rather, what are YOU going to do for him? Let's go all out this year and truly bless and woo our men!
In HIS Grip,