My family was loved on yesterday. We are loved on every Sunday but this past Sunday was Pastor Appreciation Night and while we had planned a family night (something we do in the months when there is no fellowship get together) around a Soup Supper, the church had planned a Pastor Appreciation for my hubbie which actually became a Pastor and family Appreciation.
There were decorations using the St.Louis Blues colors (my hubbie's fave hockey team)
the pink blur is my daughter :0)
a cake - also hockey themed
Gifts, games and the best part of it all - testimonies from the people about how God had worked in their lives through us.
We are so blessed to have such a wonderful church family.
Have you thanked your Pastor and his family for their service? If not Pastor appreciation month may be over tomorrow but anytime is a good time to let them know you love and appreciate them!
Now it's link-up time! What have you Ministry wives been up to?
If you are a Ministry wife: Pastor's wife, youth Pastor's wife, evangelist's wife, or a Missionary wife, LINK-UP a recent post - ANY TOPIC - from your own blog so we can blog hop and meet one another! Oh, and be a sweetheart and include this button so other Ministry wives can get in on the fun too and so you will qualify to be featured! Last week we had five sweet ladies link-up but we need to get the word out so please help share this link-up to other Ministry wives - I know they are out there!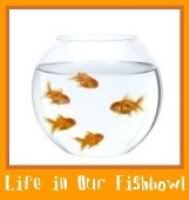 In HIS Grip,