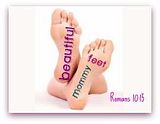 Every Thursday I choose one Ministry wife that linked up with me on Mondays and feature her so you can get to know more Ministry wives! Melissa is one that I have gotten to know a little bit through blogland and let me tell you this girl has a heart of gold! Her desires to walk the walk and follow God despite her failures are so encouraging and inspiring. I would love to meet her in person because I'm sure that her on-fire personality would shine through as it does in her writings. She has a special passion for evangelism and I love that because that is one area that I need encouragement. So hop on over and visit Melissa at
Beautiful Mommy Feet
!
And if you are a Ministry wife and want to have the opportunity to be featured on Life in Our Fishbowl you must meet a few requirements.
1. Link up on Monday with a single post (not just your blog).
2. Somewhere in your blog that is easily accessible state that you are a Ministry wife (like in your "About Me" or your profile!)
3. Link up to Life In Our Fishbowl using the button
I'm definitely having fun with this how about you?
In HIS Grip,